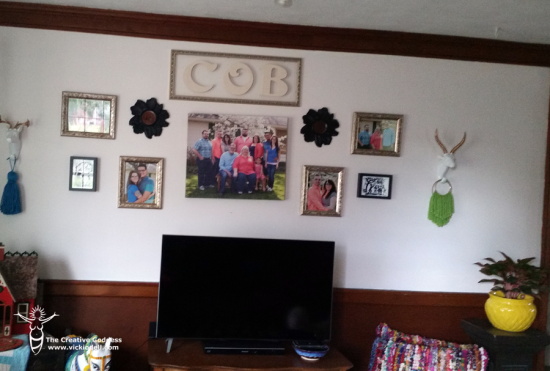 I mentioned yesterday that we have had a bit of a battle when it comes to our livingroom arrangement. We had this GIGANTIC tube TV and it had to be hooked into the ether-net cable in the wall in order to get wi-fi on our blue ray player. So stone-age!
But then Warren decided it was time to upgrade and get current with technology and we bought a new TV* just before Christmas. I still had to talk him into letting me change the livingroom around with the promise that if it didn't work we could put it back. And I'm going to tell you, for a couple of days I thought I was going to have to totally re-do what I'd done. Luckily, after about 5 days he decided he liked it after all. Whew!
Anyway, while I'm not the kind of gal to spend a bajillion dollars on a whole room makeover I'm more than happy to re-fresh things and add a few new or handmade items. You know, to give us a livingroom refresh without breaking the bank.
This is my first attempt at a family photo type gallery wall. I wrote last week about how to make the Floating Monogram Wall Art and the Easy Knotted Fiber Art.  The little black flower mirrors are from TJ Maxx as well as the yellow planter.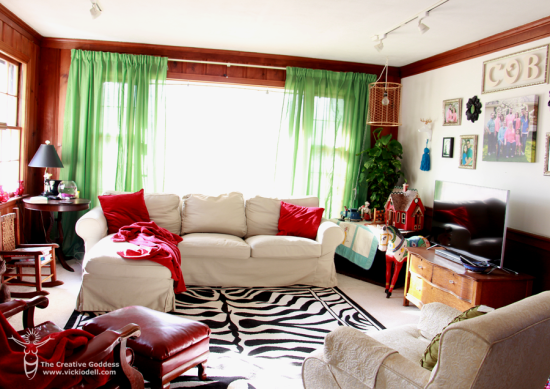 This post contains some affiliate links for your convenience. Click here to read my full disclosure policy.  
This room looked totally naked until I found that Zebra Area Rug (measures 7'10" x 9'10") from Wayfair. All of that cream colored carpet along with the cream colored sofa and chair were just too much for this color lovin' gal.
Oh, that and the carpet is getting old and shabby looking and because we don't have the money to replace it right at the moment I decided to just cover up the more shabby bit with a fun rug. Works for me!
The curtains and sofa are from IKEA and you can find my chicken wire hanging light instructions here. The small rocker was made for me when I was born and holds current reading material and the wooden horse I wrote about here.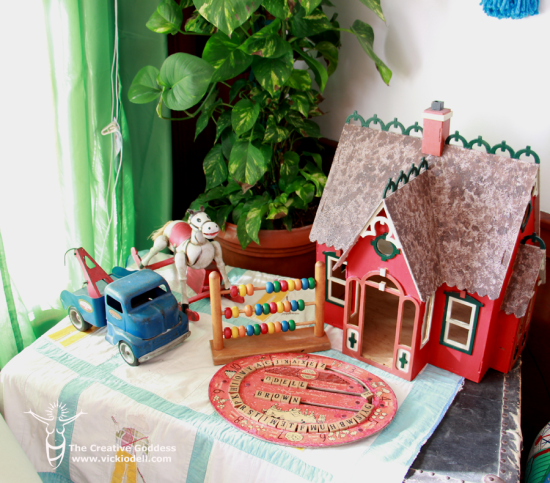 This trunk was my grandmother's and the vintage toys are part of my collection. I love vintage toys!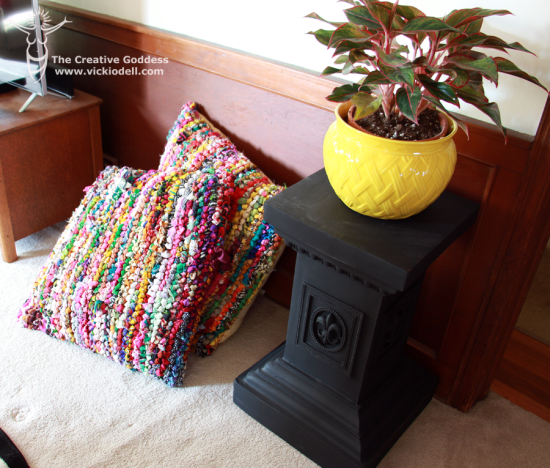 I found the floor pillows at a discount store and the pedestal was in the bathroom. I repainted it with Plaid Chalk Paint.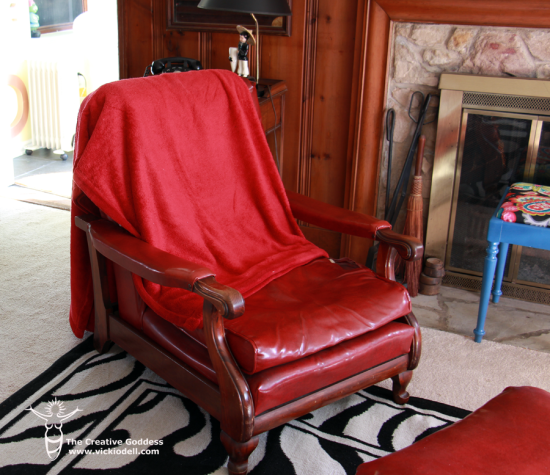 This chair. Ugh. My husband won't part with it because it was his fathers but it needs reupholstered badly. It's a decent looking chair and I can imagine that cleaned up it will be awesome but it really does need some TLC.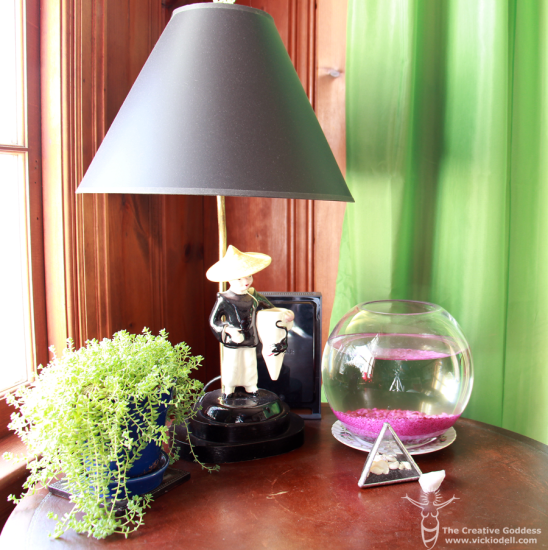 I found this old leather topped table at a Habitat Re-Store a year or two ago. It's showing its age but I love it all the same.
Just try to ignore the modem.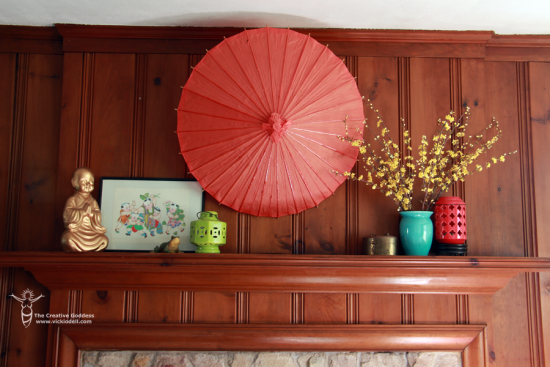 And finally the mantle. The poor thing was naked from Christmas but I finally decided to go around the house and pull what I could to make it less naked. I chopped the handle off the paper umbrella to hang it. Nothing is sacred here.
Things I still want to do in this livingroom:
Paint! I want to paint those walls and the ceiling
Remove the track lighting. I hate it!
Tear out the carpet – If I can't afford to replace it I might just paint the sub floor until I can
Reupholster the red chair
Replace the cream colored chair
new TV* – Please dispose of old television sets properly. Best Buy took ours for disposal.