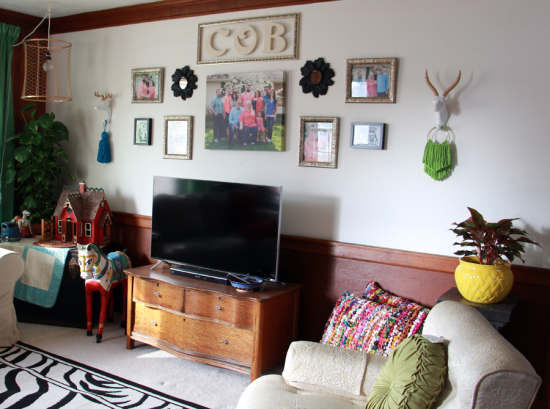 Believe it or not this is my first try at a gallery wall. The family got together last spring to have our photos taken before the youngest moved out of state. Of course that means I had to paint and re-decorate so I could hang the photos, right? Besides, I'd gotten kind of tired of looking at the space the way it was.
Some of the gallery walls I looked at online for inspiration had a monogram on them. I loved the monogram idea. The only trouble is that in our blended family we have THREE last names. I had to get creative! So I created this floating monogram wall art to add to this family photo gallery wall.
It's super duper easy!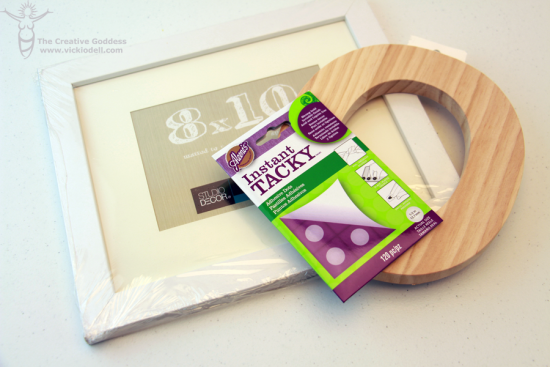 This post contains some affiliate links for your convenience. Click here to read my full disclosure policy.  
How to make your own floating monogram wall art
You will need
a frame that has glass in it
Acrylic paint and/or stain
Paint, stain or otherwise treat you letter and frame.
Remove the frame backing and paper inserts and replace the glass.
You may want to use a bit of hot glue on the back where the glass and frame meet if it is too loose.
Attach the letter to the front of the glass with the Instant Tacky dots and hang.
Easy peasy!
I made our floating monogram wall art in a light color since it's at the top of the wall. I figured that a dark color would make the gallery wall seem to "top heavy", especially since there are three letters.
I know that these days there are lots of families with more than one last name. I hope this gives you ideas for how you can still do the monogram thing even though you have more than one letter.
How many last names are in YOUR family monogram?