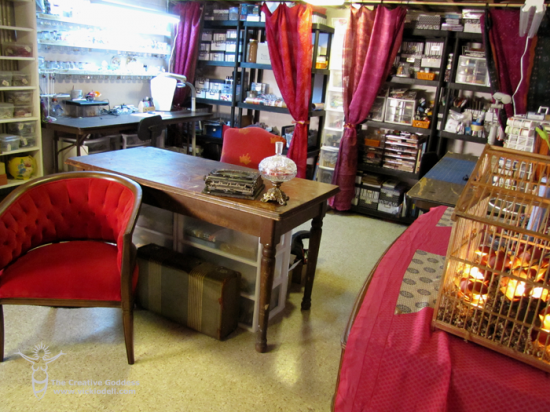 Studio, craft room or creative oasis… whatever you call it this room is ALL MINE.
There is an upside to having your kids all grow up and leave home, people.
Welcome to Day 4 of The Craft Room Tour, hosted by Angie of The Country Chic Cottage. Make sure you don't miss any of the fabulous rooms and tons of inspiration from Day 1, Day 2, Day 3 and Day 4. 
I love this space! It's something I've dreamed of for a long time now. A place that is all mine where I can daydream and create to my heart's content.
I love the mish-mosh of vintage finds, the fabrics (sari fabric curtains to hide supplies if I want to) and the fact that I have THREE tables to use.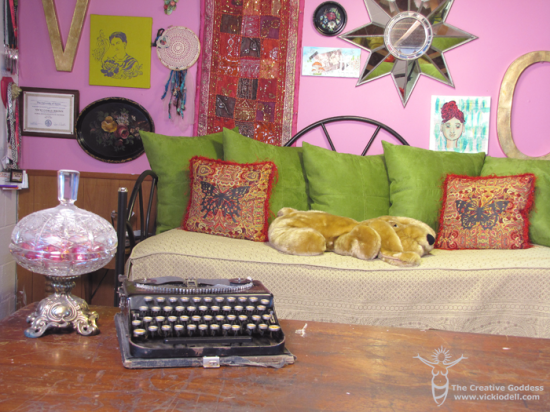 Like lots of the studios in Angie's Craft Room Tour my space is in the basement. Basement spaces are nice because they are warm in the winter and cool in the summer but the downside is that good lighting is a challenge.
So I have lots of task lighting and I'm working on a couple of different projects to have more lights for reading on the daybed and such.
Can I tell you how cool it is to be able to curl up on the daybed on a rainy afternoon with a cup of tea and a stack of magazines? HEAVEN!
I love this old beat-to-heck table. I think it used to be in a library, maybe in a school, because it's got a few initials carved into it. Oh, if this table could talk!
The portable typewrite still works and the lead glass candy dish is full of one of my favorite candies – Atomic Fireballs.
There are a few "holes" in my wall over the daybed because I scavenged a few pieces for an art show that I'm in this week.
See the Trophy Hooks, Screen Printed Pillows and Mixed Media Picnic tutorials by clicking on the links.
The big fabric piece on the wall is from a Room by Room shoot. I swiped it!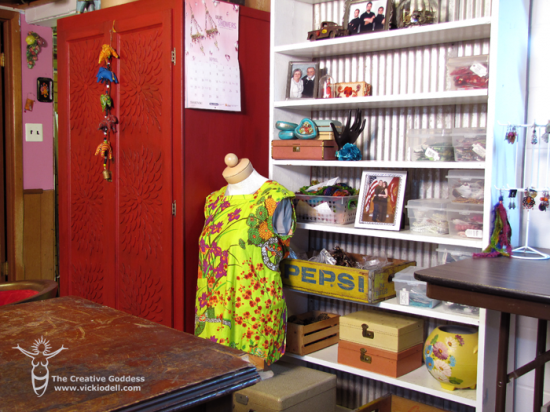 I had a budget of about ZERO dollars for this new space so I pulled pieces from other places in the house. The bookshelf was a thrift store find while the cupboard was one my husband has had since college. I got the dress form from a store going out of business sale and the vintage jewelry boxes are from my mother-in-law's home.
Covering the white light switch cover is now on the top of my list of things to take care of in here. That white makes me crazy. 
Bookshelf Makeover & Cupboard Makeover.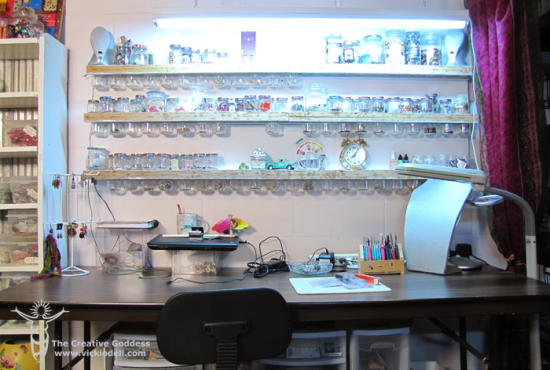 This is my jewelry making space. I want to cover the face of those shelves with metal so I can add small magnetic containers to hold more beads.
MORE BEADS!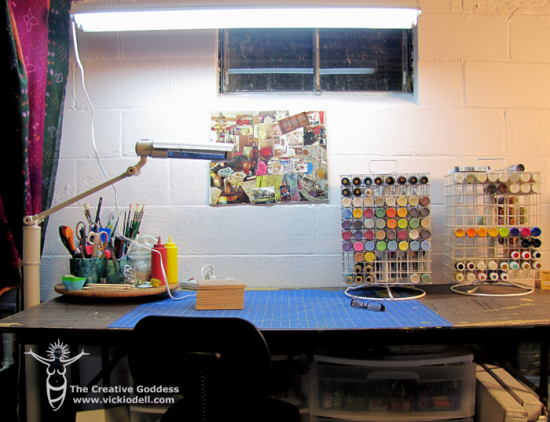 This is my mixed media area. It looks a little naked right now because I don't have everything quite moved in yet. Don't worry, it will fill in fast!
I'm going to have to cover the table top with something. Maybe a disposable tablecloth like I saw in someone else's craft room tour? That way I can just cut it off and start with fresh if I want. The surface of this table has seen better days.
Better paint storage is also on my list of things to think about here.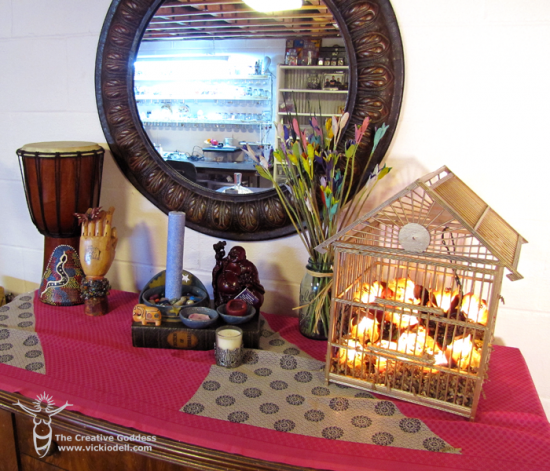 And finally, a little alter space. A candle for meditation, a Buddha and lots of little gemstones and trinkets from dear friends.  I love the painted flower pods that a new friend gifted me with recently. They are so fun and funky.
The dresser holds photography props and clean blankets and sheets for the daybed in case I have a guest.
Warren keeps saying I need a ceiling and that we'll put one in but I kind of like not having one. If I had a choice I'd take down all of those little boards that USED to hold a ceiling and I'd paint the whole thing white. I just think that closing in those beams will make the room feel smaller.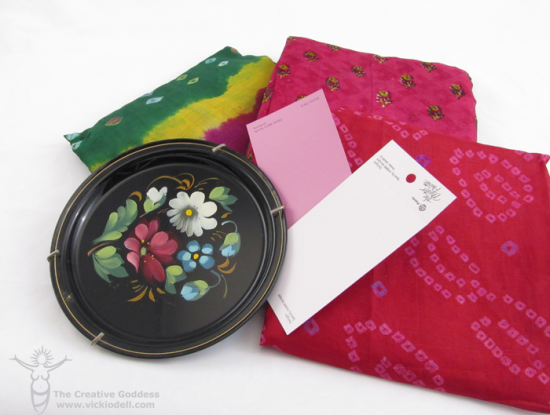 Oh! And here was my starting point. Some vintage saris, a Russian Tole Painted tray my husband picked up on his travels and the colors 'Delight' and 'Rosebowl' from Glidden. I wrote a blog post about my studio inspiration if you want to see where this whole thing started.
Well, that's this creative room. I have another room where my computer and sewing area are and a good sized room that is all storage,  but I'll have to clean up some more before I let ANYONE see that! Because, trust me, this whole new space created a HUGE mess in other places. You know how that goes!
I hope you'll hop around and visit some of the other Craft Room Tours as there is tons of inspiration to be had. Besides, it kind of makes me feel like I know my favorite bloggers a little bit better when I see where they work. Don't you think?