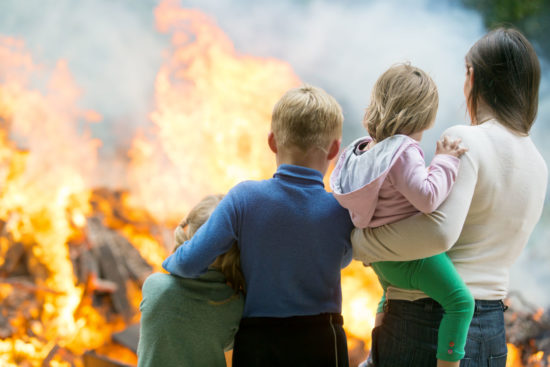 Life is funny. Not always HAHA funny but, you know, WTF funny. Some years seem to go by relatively smoothly and others wreck havoc on your whole world. Then there are those sneaky years. Nothing major happens outside – but inside there is chaos.
Inside your head that is.
You look like you are just peachy keen but inside your head there is a fire burning and a storm brewing.
Sometimes your brain has to burn shit down in order to build something new. Ya know?
That's what this year, and maybe the past couple of years if I sit down and think about it, have been like for me. Burn the whole damn thing down so I can start over.
The breast cancer, the kids leaving home in rapid succession, my mom's bout with leukemia and my husband's prostate cancer, turning 50 and all of the other stuff that rained down on my head like bricks. I realize that it has taken a long while to process what I went through in 2014 and 2015.
I came out of that whole mess with was a raging battle with depression. A depression that has lasted just about 18 months.
I've dealt with depression off and on my whole life. The postpartum stuff was THE WORST and I keep telling myself that if I can get through that I can get through anything.  My doctor asked me if I wanted to hurt myself and I said, "If I weren't such a coward I might consider it". But I am. A coward that is. I'm about 99% sure that I'd end up in a hospital bed for another 30 years in a vegetative state. Not dead and not alive. Just Tormented.
I'm sorry. Is that hard for you to read?
It's hard to write. Hell, it's hard to think.
You see, my family never discussed mental illness. Though all you have to do is look around at the whole dysfunctional clan and see depression, among other things, runs rampant.
My mom talked about her "nerves" and I thought she was copping out. In some ways she was, but in other ways she was fighting her own depression battle.
When I had a bout of depression as a teenager – which often came out as anger – my father would threaten to send me away. "There are places for girls like you," he would shout.
Umm. Where? Can I go now?
Mental illness had a stigma.
A Great Aunt had a "breakdown" and I remember several of us visiting her in the hospital but she just sat there, not talking. We never talked about it afterward. I don't think we talked much about HER for that matter. It was as if it never happened.
No one talked about the things that had happened in our family. Ever. Skeletons securely locked in closets.
I often wonder if we had talked about our family legacy of depression if I might have been more accepting of myself and my limits when I went through hard times in the past?
Maybe. Maybe not. I'm generally pretty hard on myself.
But I do try to talk to my son who suffers now that I'm more aware.
It's just that the chemicals in my brain don't do what they are supposed to do.
And who is to blame for that?
No one.
But we can talk about it. Be understanding and caring and gentle with ourselves.
I hope that if you deal with depression that you realize it has nothing to do with YOU but rather a chemical in your brain. You have no control over it. All you can do is fight with all of your might and not listen to that insistent voice in your head that tells you that you aren't good enough.
You are. Good enough for me. Good enough for your family. Good enough for the people around you who need your understanding when, they too, feel the storm coming.
Batten down the hatches mother fuckers! We're gonna ride this one out together!