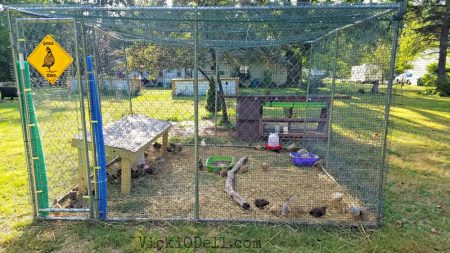 Let me tell you, this farming thing is not easy, my friends.
Not even for an itty bitty city farm like mine.
I'm sitting here at my laptop with a well deserved cold drink at hand.
You see, I just came in from chasing quail in 91° heat with super inhuman humidity. I feel like I've been running a marathon inside someone's mouth. UGH!
This past week I added my 5 old hens in with the 22 newer ones and then added a few more yesterday. That puts me at about 34.
ABOUT 34 because they are almost impossible to count.
I'm trying lots of tricks to see if I can get some eggs again. The egg production here is at a record low.
Anyway, when I went out to water today (kind of late – after all, it's Sunday) 9 of those little buggers were out of the enclosure lounging under the crab apple tree without a care in the world.
Trust me, when I tell you that quail are not easy to catch!
It's a wee bit easier if they get in tall grass or under a shrub and think you can't see them.
Then you just kind of nonchalantly mosey over and swoop down and scoop them up.
Otherwise it's a chase. First left, then right. Zigzag and wear the lady farmer out is the name of the game here.
And if you get too close they have no problem packing up and flying out of reach.
I finally figured that if I could herd them to the outer wall of the enclosure it is long and tall enough that it confuses them. So if I'm quick enough, I can zoom in and grab them.
One. At. A. Time.
By the time I caught them all I was sweating profusely and pretty irritated.
And to top it off? NOT ONE EGG from them.
Who do I talk to about this?