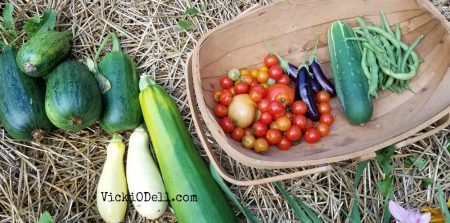 The weather this year has been horrid. One minute I'm sweating my tail off and the next it's raining so hard I need hip waders to go out and tend critters or work in the garden.
Ol' Mother Nature can't seem to make up her mind this year.
But that hasn't stopped my garden. It has slowed it down some but not stopped it.
Thank goodness. Because this gal does love a fresh tomato for breakfast.
This post may contain affiliate links for your convenience. If you purchase an item after clicking a link I may make a teeny tiny commission at no extra cost to you.  Click here to read my full disclosure policy.
You can get a Wooden Garden Trug like mine HERE.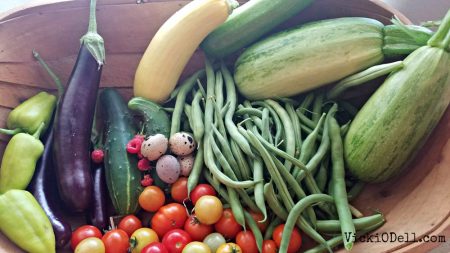 I've been posting images of my harvests as they come on Instagram and Facebook. I guess it's my online garden journal.
Mostly because keeping up with a regular garden journal routine is something I've never managed.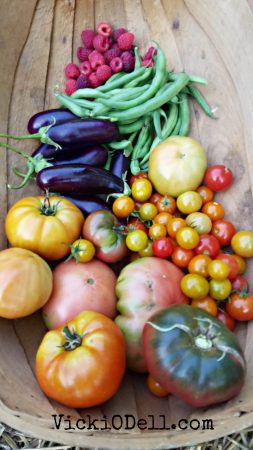 Nothing grown in the grocery store even comes close to the flavor of home grown veggies.
I often find myself munching on cherry tomatoes as I walk back to the house. I may also moan and tell myself that those tomatoes are the best I've EVER tasted.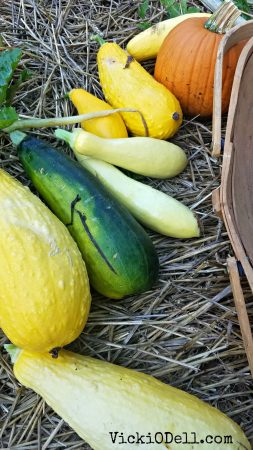 I ended up with 1 volunteer yellow squash and 1 volunteer striped zucchini and they have produced so abundantly that I've taken to giving some of it away.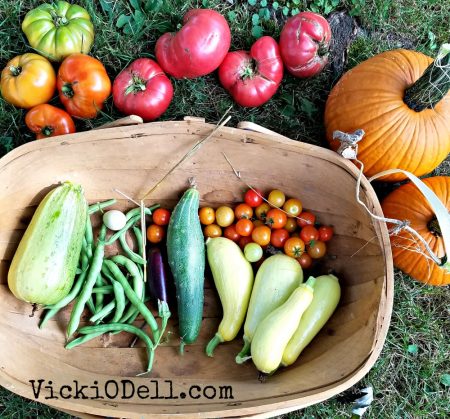 I managed to harvest three pie pumpkins I intend to roast and freeze for winter. I've made two very large jars of refrigerator pickles and enjoyed untold dinners with sliced tomato and fresh green beans.
This year my garden was in a state of flux as I went from straw bale rows to more permanent raised beds that I'll be writing more about soon.
It took longer to build the beds than I imagined it would. No surprise there! So I was late getting some of the crops in. Hopefully I will be in better shape for next year.
So how is your garden growing?