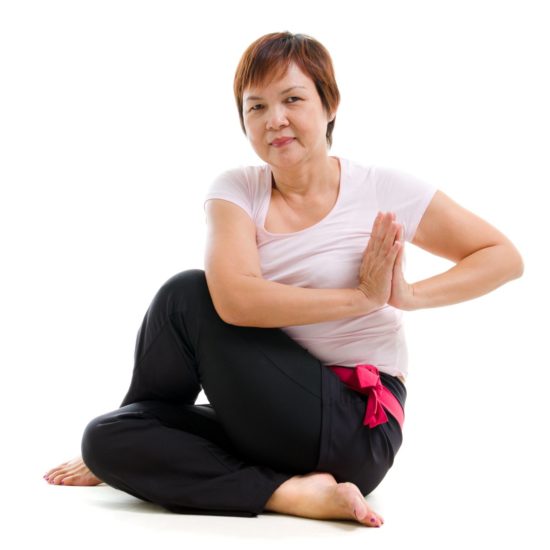 How many things have you thought about quitting lately?
Both good and bad.
When we reach midlife we tend to quit giving a rat's ass what many other people think about us. We've lived long enough to realize they probably aren't thinking about us at all anyway.
We've earned a few wrinkles and gray hairs and no fashion magazine is going to make us feel badly about that. It's good to quit obsessing about things that really aren't important – that we don't have much control over anyway.
By the time we reach midlife we've also lived long enough to know what works for us and what doesn't.
But how many good things in life have you given up on? How many times have you given up on yourself?
Let me tell you a story that has affected my WHOLE LIFE.
When I was about 2 years old my grandmother had a stroke. I ADORED this grandmother and we were very close. My parents moved onto the farm to help take care of grandma and the farm. The doctors told my grandmother that she could walk again but that it was going to take hard work.
My grandmother was the youngest daughter so she not only did her regular farm chores but she was left behind as her siblings grew up, married, and started farms nearby to care for her aging parents. Once her parents were gone she was free to marry, have kids, and work a whole lot more on the farm her parents left her. Work to keep the farm going. Work to care for her husband and two kids. Work. Work. Work.
Anyone I've ever talked to talked about how hard she worked.
I'll never pretend to know what was going on in another persons head but my grandmother had worked hard her whole life but I imagine that when she had her stroke and the doc said she'd have to work hard to walk again, so that she could work really hard some more, that she just quit.
In her mind, she said, "the hell with this, I'm going to let people take care of ME for a change."
I don't think she realized that her inactivity would cause heart disease and dementia. I don't think she realized just how compromised her quality of life would become. She died 12 years later. I was only 14 and I was heart broken. I miss her still and I'm 51! I don't think she realized how big of a hole she would leave in my life by quitting.
But that makes me wonder, how many times have I quit? On a long-term basis. On a monthly basis. On a daily basis.
I quit hiking and long distance walking when I got sick with breast cancer and I never started it back up again.
I quit on any number of craft or art projects when things aren't turning out like I would like them to.
I quit "eating healthy" at about 3 pm every day when the afternoon cravings demand CHOCOLATE.
I quit developing spiritually when I left an abusive marriage and an abusive religion.
Now, I'm gonna repeat myself here.
Sometimes quitting is a good thing. Something you need to do.
But it makes me wonder, how many times I've quit something when it would have been in my best interest to keep going.
Have you quit going to the gym, putting on make up, doing your hair or caring about what you need or how you feel? Have you quit smoking or drinking too much? Have you quit letting someone mistreat you?
Have you quit doing things that are self caring and self nurturing?
I don't have an answer for you. I'm asking you to think about it.
What have you quit?
Why?