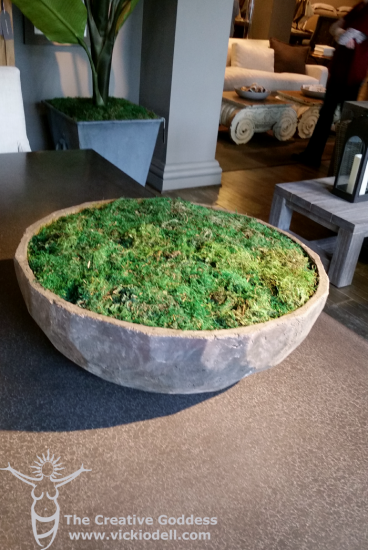 It's been crazy busy here lately. Between my business and Warren's business/freelance work we are really hopping.
Saturday was a prime example. I left home at 9:30am and went to the local Habitat for Humanity Re-Store while Warren finished up some paperwork.
I came back to get him and we both left the house and didn't return until after 9pm.
We were all over Akron and Cleveland.
Stop here, shop for this project.
Stop there and price out product for another project.
One place didn't have what we needed so we went to the next.
Toward the end of the day we headed to Cleveland for a site survey.
Before we left Cleveland Warren suggested we stop in at Restoration Hardware. You know, as a treat.
Of course, I jumped all over that!
So we headed over to Legacy Village and found a parking space. Not easy to do on a Saturday evening.
We were both excited to go to Restoration Hardware and see lots of good things.
Only it turns out we were excited for entirely different reasons.
We walked into the store and I was ready to take my time and look around. You know, soak up some inspiration and ideas.
But as soon as he got through the door Warren started walking really fast.
He walked through the first room and into the second, he looked around quickly and then walked just as quickly into the next room.
I whisper shout, "Slow down!"
He kept sprint walking to the next room.
"Stop!"
He looked all over like he lost a kid or something (you know that feeling) only it was just the two of us. And our kids are grown.
I kept trying to look at the pretties but keep my eye on him at the same time and he kept zooming through the rooms.
It wasn't like I was afraid he was going to leave me there or we are attached at the hip or anything but he was acting so strangely.
Finally, I decided that I was going to slow down just a little and he could just do whatever it is that he was doing.
He wasn't answering me when I called to him anyway.
I picked up a couple of catalogs real quick and then went through the next room.
I found him near the exit and he looked like someone kicked his dog.
Disappointed and shocked. Just standing there staring at me.
"What's wrong? Why are you going so fast"
He says, "Where is the restoration stuff?"
"Huh?"
"Where is the restoration stuff? Where is the hardware?"
It slowly dawned on me.
"It's a home decor store, honey."
He turned on his heel and walked back out the door looking thoroughly disgusted.
I snapped the above photo with a project idea in mind and followed him.
"What was that all about?"
He says, "I thought it was a hardware store. I thought there would be hardware to do restorations with."
I tried not to laugh. Really I did.