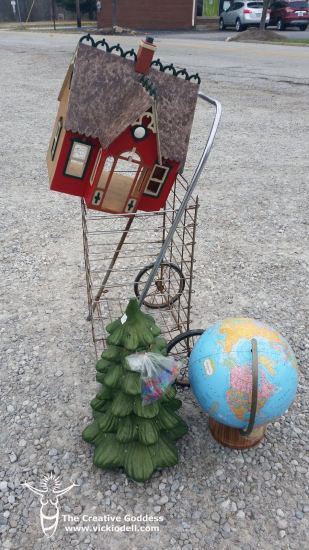 I've been on a bit of a thrift shopping hiatus for the past few months. I know, it's so hard to believe! But let me tell you, I needed it. I needed time to catch up with some projects that have been swirling around in this crazy brain of mine, and besides, I spent a big chunk of time in 2015 clearing things out before my last child moved out and I wasn't ready to start loading up again.
According to Instagram my self imposed thrift shopping hiatus has been going on for 14 weeks.
It's a record.
I know, I deserve a medal. It's a story I will tell my great grandchildren one day. It will start like this, "Once upon a time Granny went a whole 14 weeks without going to the thrift store".  And there will be gasps of disbelief. Probably because they don't know what a thrift store is. Haha!
Of course, that is if you don't count my recent visit to Zero Landfill. And I don't.
So my last thrift store haul looked something like this.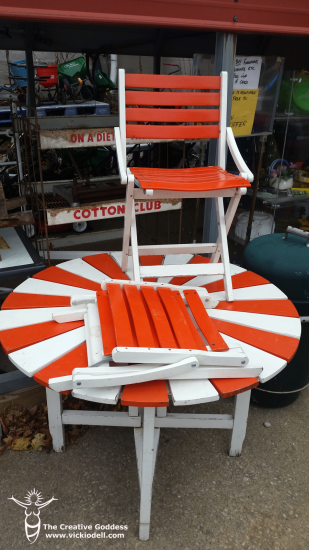 A fun orange and white table from Italy and three matching chairs.
A doll house someone didn't finish
A broken globe
A rolling cart
And a really big ceramic Christmas tree
One of the coolest things I got to do in my 50 years on this planet was to live in Germany for 3 years and be a USAF wife for ten. I LOVED hitting garage sales on base because I could find things from all over the world. That Italian table and chairs reminds me of living all over the place and meeting people from all over. I really enjoyed that time in my life.
If you don't count the guy I was married to. And I don't.  HA!
Anyway, you will see the dollhouse in some upcoming living room posts (I'm pretty sure it will get re-painted), the Christmas tree I enjoyed over the holidays on the front porch, I have a project planned for the rolling cart and I'm not sure what I'm going to do with the globe quite yet – I actually have a few ideas fighting over one another so we'll see.
I can't wait to enjoy the table and chairs outside this spring and summer. It's almost here!
What was the last thing you purchased at a thrift store?