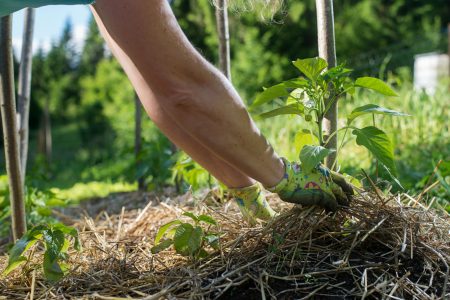 I've spent a fair amount of time the past two years with Permaculture Garden Designers. Taking classes, listening to podcasts and lectures, and absorbing as much as possible. When I mention this to friends they often ask, "What?" and "Why"? The attitude feels like, "Seriously, permaculture." But you are a women over 50!" "You're OLD!"
You see, I'm not getting any younger (who is?) and at 52½ I want to be able to garden for a good, long time. Mostly because it's good for me. But also because it makes me HAPPY.
This post may contain affiliate links for your convenience. If you purchase an item after clicking a link I may make a teeny tiny commission at no extra cost to you.  Click here to read my full disclosure policy.
This thing of walking out the back door and breaking my back for 6+ hours in the hot sun is not cutting it. Well, it's OK for now, but it's not sustainable. And it's not good for my garden ecosystem long term. Or my lower back.
So I've turned to the young people in the gardening world. The ones who are promoting more sustainable agriculture and gardening. The permaculturalists. Learning what I can about those practices so I can keep gardening for a long time. Permaculture and women over 50 go hand-in-hand. Or at least they should.
So what is permaculture, really?
Permaculture combines the best of natural landscaping and edible gardening. Permaculture systems aim to sustain both themselves and the gardeners.
The ultimate purpose of permaculture is to develop a site until it meets all the needs of its inhabitants, from food and shelter to fuel and entertainment.
While it's difficult for a home gardener to follow permaculture to the nth degree, most of us can borrow ideas from permaculture with simple landscaping techniques based on production and usefulness.
The man who coined the phrase, Bill Mollison, explains permaculture  like this,
"The conscious design and maintenance of agriculturally productive systems which have the diversity, stability, and resilience of natural ecosystems. It is the harmonious integration of the landscape with people providing their food, energy, shelter and other material and non-material needs in a sustainable way."
His work has been criticized for its scientific validity, as have his followers for their cultural subversiveness and inability to explain what the word actually means.
I do love me some cultural subversives!
"Permaculture is a philosophy of working with, rather than against nature; of protracted and thoughtful observation rather than protracted and thoughtless labour; and of looking at plants and animals in all their functions, rather than treating any area as a single product system." Bill Mollison
None of that has stopped permaculture from being influential in discussions of sustainable agriculture and green lifestyles. Though permaculture has largely been an underground social movement, it is bubbling up in the mainstream more and more.
And I'm here to tell you that it isn't just for YOUNG PEOPLE. If we want to garden into old age we need to pay attention to permaculture principles.
Any system that provides for its own energy needs is inherently sustainable. Any system that once set up, does not need to be set up year after year is sustainable for aging gardeners.
For example, rather than bringing fertilizer to a garden, the system could be designed to provide its own fertility needs. Maybe from livestock manure or cover crops. And if you're raising livestock, you should certainly aspire to provide all the food for your animals from on-site, whether raising grain, forage crops, or recycling kitchen waste as animal feed.
Design your garden into a system that provides for its own needs, and yours, and enjoy the benefits for a very long time.
How much time and thought do you give your garden before you head out each spring? Do you keep putting the garden in the same old spot or do you consider how it would work best for the foods you grow?
Some of my favorite permaculture books:
Gaia's Garden: A Guide to Home-Scale Permaculture
Permaculture: A Designers' Manual
The Resilient Farm and Homestead: An Innovative Permaculture and Whole Systems Design Approach
Practical Permaculture: for Home Landscapes, Your Community, and the Whole Earth