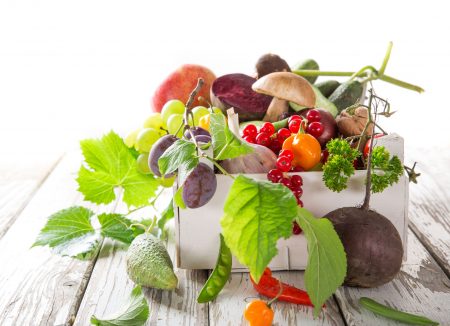 Here in Northeast Ohio summer is quickly fading and early fall is on her way. And I'm not even sad about that. I love FALL!
And I love the variety of fruits and vegetables I get from my back yard or the local farmer's market this time of year. Check out the list of what is available along with some of my own recipes below.
What is in season in Ohio in the early fall?
Apples – In these parts look for Ginger Gold, McIntosh, Cortland, Jonagold, Golden Delicious, and Granny Smith. A recent and much loved addition at our house is the Honeycrisp.  Try Apple Walnut Pudding or Apple Walnut Squares.
Beets – I'm not a fan of pickled beets but roasted beets are delicious. They are a good source of minerals, especially potassium, magnesium, manganese, and (to a lesser extent) iron. I love to roast beets and Brussels Sprouts with a little olive oil, salt and pepper. YUM!
Blackberries – Skip the whimpy blackberries in the grocery store and snack on fresh picked, local blackberries. Raw, baked or in jams and jellies, you can't go wrong.
Broccoli – A distant cousin of cabbage but with a whole 'nother flavor. Try my Chicken Divan with Broccoli for a filling weeknight meal.
Cabbage – A very versatile vegetable. Cabbage can be eaten raw, cooked, roasted and fermented. I'm working on my first sauerkraut now. Chinese Chicken Salad
Carrots – Ground Turkey Vegetable Soup with Vegetables (carrots and potatoes!)
Cauliflower – One of those vegetables that can taste completely different depending on how it's made and what it is made with. Try simply roasting a head of cauliflower with extra virgin olive oil and your favorite spice mix.
Cucumbers –  Raw or pickled. You can't go wrong with cucumbers. And contrary to popular opinion any cucumber can be turned into a pickle. Search for the Perfect Refrigerator Pickle Recipe
Eggplant – Pick up globe eggplants for baba ganoush and eggplant parmesan, or tender Japanese eggplants for a stir-fry.
Grapes – Most states up here along the great lakes have started producing some delicious grapes. Give local varieties a try.
Green Beans – Look for crisp string beans and wax beans that snap when you bend them, thin and tender Don't forget Lima beans, and flat bright green Romano beans.
Kale –
Leeks – Sort of like an onion but not really.  Try my recipe for Leek and Potato Soup.
Leafy Lettuce –
Onions –
Parsnips –
Peaches –
Peppers –
Potatoes – Red, white, baking and yes, even sweet potatoes. They store well and are super filling. Try this easy breakfast idea Sweet Potato Hash Browns & Egg.
Pumpkins –  Pumpkin Cookies
Radishes –
Raspberries – I have one raspberry patch in the garden for my Mister and they usually are gone within hours of bringing them in the house. Because that's simply the best time to eat them. While they are still warm from the sun.
Spinach – A favorite around here for salads.
Summer Squash – Yellow and Zucchini squash are a staple here in the late summer and early fall. This is my favorite breakfast right now Crazy Easy Summer Breakfast. Zucchini Nut Bread is also a winner.
Sweet Corn – If you've never had Ohio sweet corn you don't know what you are missing.
Tomatoes – You can make fried green tomatoes with any unripe green tomatoes, or just leave them on the counter to ripen. They will eventually turn red. If you can your tomatoes save this recipe for later in the season. Slow Cooker Recipes: Lentil and Curry Tomato Soup
Turnips –
Winter Squash –  Try Butternut Squash Soup  or Stuffed Acorn Squash.
Looks like I'm missing recipes for a few items.
What are your favorite dishes to make with early fall produce?